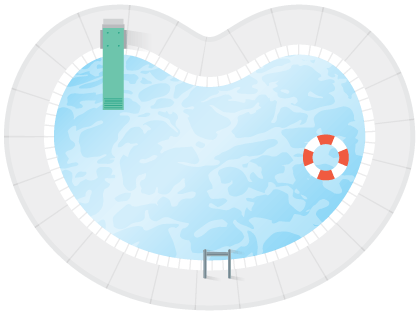 The American frontier of the Twentieth Century was the San Fernando Valley. Three years before World War I the greatest land sale in California happened in Van Nuys. It took another seventy years for the San Fernando Valley to develop out of underdeveloped land. After World War II poultry farms and silent film ranches turned to GI funded tract homes.

By 1946 construction switched
to concrete swimming pools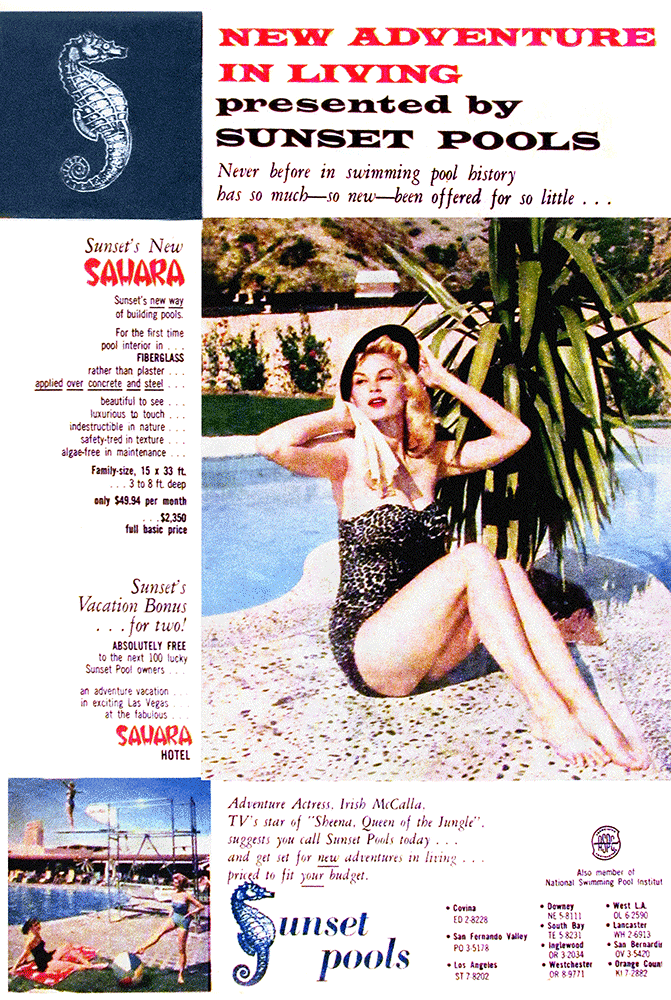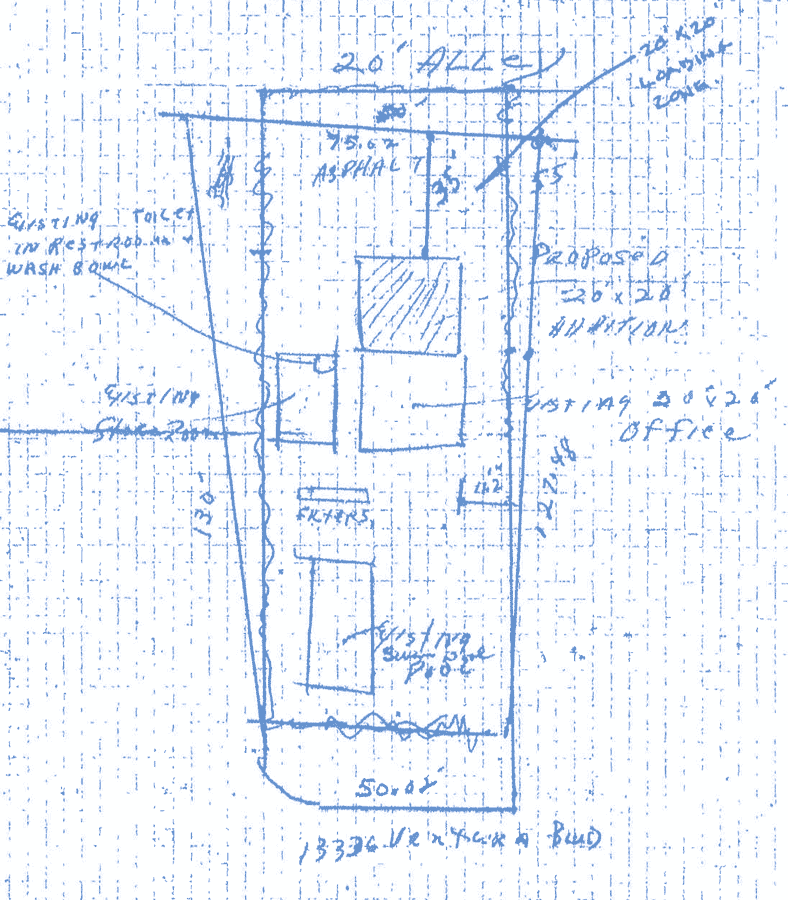 By 1946 Phil Anthony's love affair of concrete block incinerator construction switched to concrete swimming pools. In 1951 he started gunniting pools. By 1951 the San Fernando Valley's GI frontiersmen had matured, saved enough, or used their ingenuity of the greatest generation to afford backyard swimming pools and rumpus rooms. By the mid-1950s homes larger than the first wave of detached garage two or three-bedroom tracts sprung up across Encino, the hills of Sherman Oaks, and Tarzana.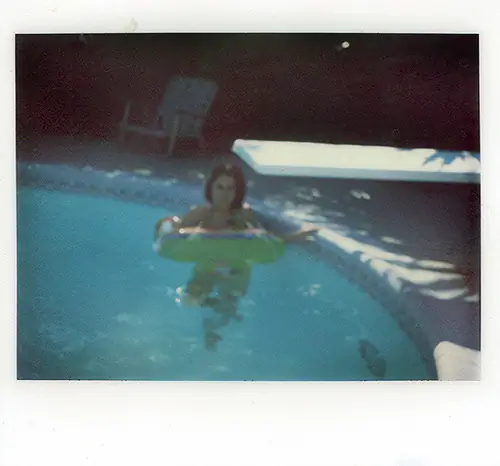 A $3,600 16 X 36 POOL BUILT IN VAN NUYS IN 1960,
AS DEPICTED IN 1977

A 1959 advertising supplement to the Los Angeles Times, exclusively about swimming pools, argued even an investment of an $8,000-$10,000 home justified a $2,000 swimming pool.

Plentiful advertisements existed for swimming pools that could be built for $2,000 or less. Actual permit records show more than $3,000 being spent for San Fernando Valley swimming pools in 1960.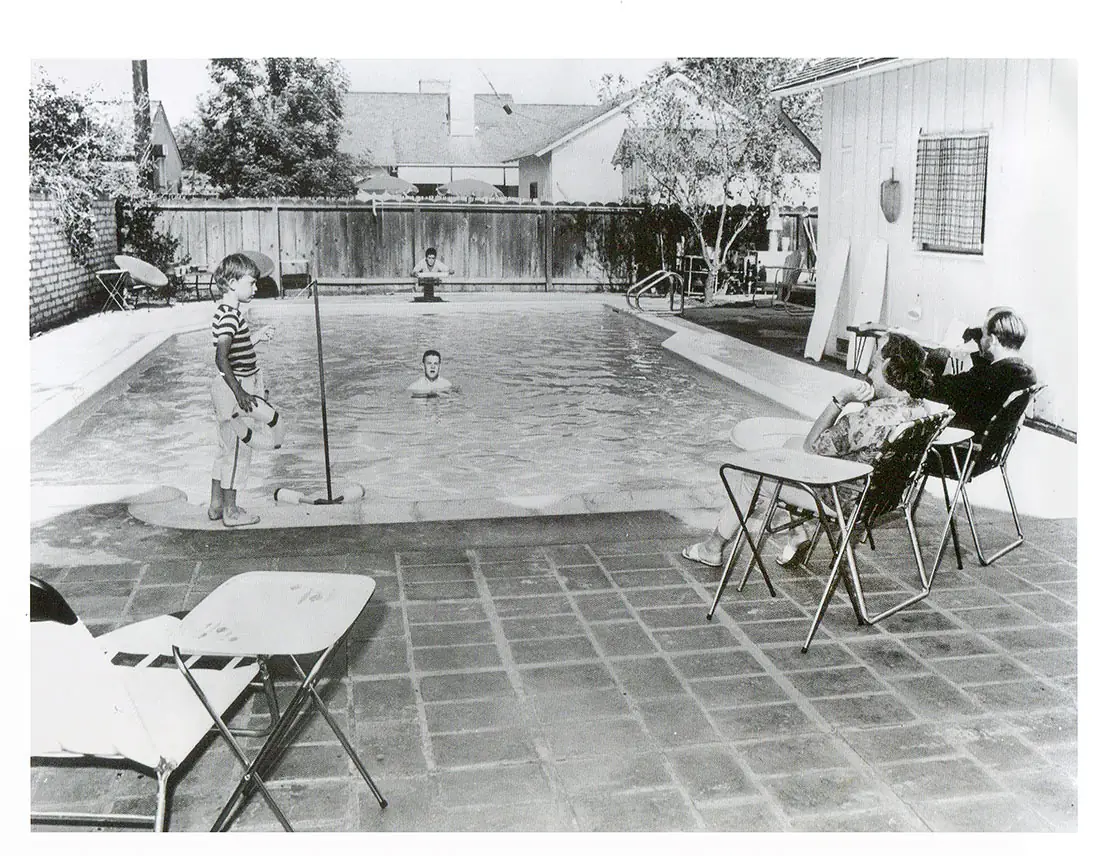 24,000 swimming pools were in the San Fernando Valley by 1960.

4,000 were added each year until the 1990s.
13336 Ventura Boulevard, the Southwest corner of Ventura Boulevard and Nagel, has particular significance in swimming pool history.
By 1956 the Sherman Oaks section of Ventura Boulevard from the west side of Nagel to Colbath, less than a mile away was on its way to being the mecca of Display Swimming Pools. Former real estate shacks, a few hundred square feet in size were rebranded sales offices for swimming pool contractors. During these days when Ventura Boulevard was still the 101, swimming pool contractors decided to use the land in front or back of the shacks to sell their concepts. Instead of selling swimming pools through drawings or pictures, they built display pools along Ventura Boulevard. The pronouncement of swimming pool visionaries literally exploded from the east side of Dixie Canyon and Ventura Boulevard to mid-block Ventura Boulevard west of Dixie Canyon where The Employment Lawyers Group resides in a 1972 small office building.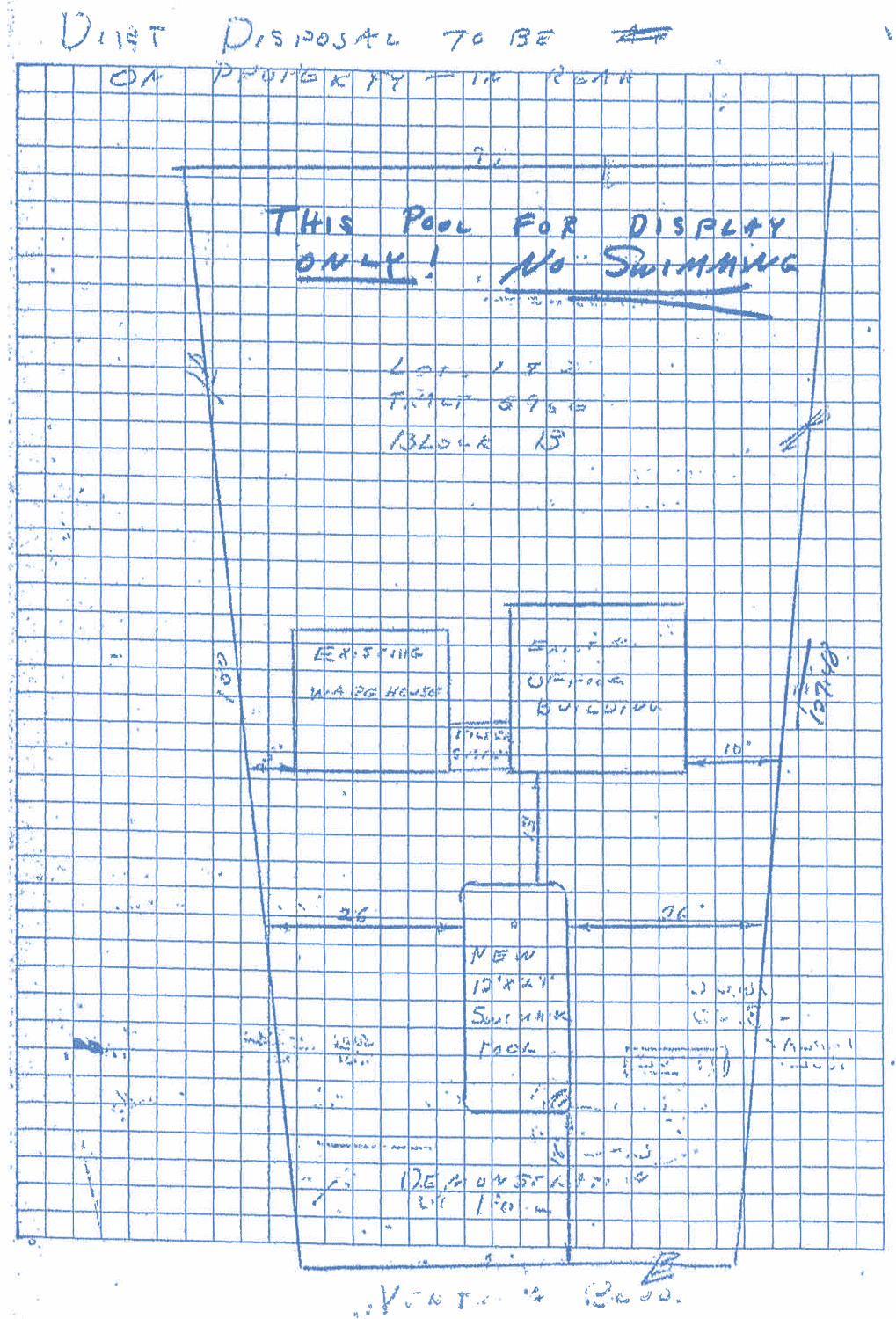 October 13, 1954 W.J. Frank moved a building plan through plan check to construct a new 12 X 27 gunite swimming pool facing Ventura Boulevard at 13336 Ventura Boulevard.
The detail on the plans note:






A careful inspection of the permit indicates an existing pool was demolished.
There are not any permit records for the existing pool.
Could it be the pool in the below picture?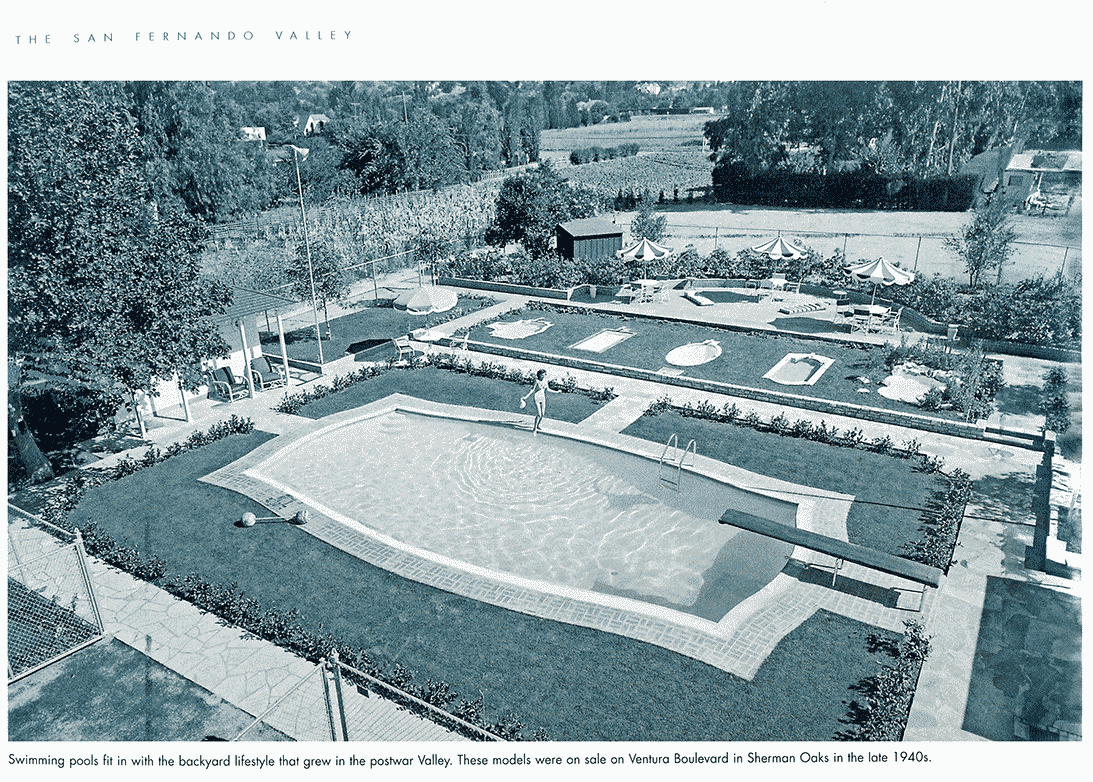 Former state historian Kevin Roderick claimed this was a 1940s picture of a Sherman Oaks display pool on Ventura Boulevard. A close inspection of the photograph shows a border of standard size bricks that exactly fit the width of a 12-foot-wide pool! The brick pattern shows a border that would fit along the length of a 27-foot! Sorry, Mr. Roderick, but the picture is post 1954; probably post 1956 after buildings were moved and an office was built for Swan Pools on 13336 Ventura Boulevard. Additionally, the lady's bathing suit appears more mid-1950s than 1940s. All of this means the first area display pool was most likely at 13363 Ventura Boulevard.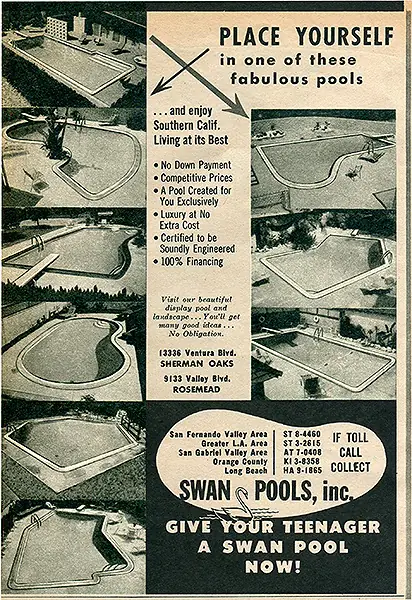 The 1959 Los Angeles Times supplement on swimming pools indicates Anthony Pools then existed at 13363 Ventura Boulevard. The 1961-1962 Sherman Oaks phone book lists Abbey Pool & Filters, Anthony Pools, and Pools and Filters at this location. At 13363 Ventura Boulevard Swan Pools, however, obtained a certificadte of occupancy for a 15 by 31 Display Pool in early 1970. Until the Mid-1970s Los Angeles Times advertisements indicate Anthony Pools existed at this address. However, 1957 permit records indicates Anthony Bros., Inc. was also located at 13363 Ventura Boulevard when they applied for a permit to build a Semi-Public Pool (For Display Sales Use Only). In 1959 they applied for a permit for yet another display pool at this address. It was during this period a longstanding resident told the author of this article, pools fronting Ventura Boulevard were, "Popping up all over the place."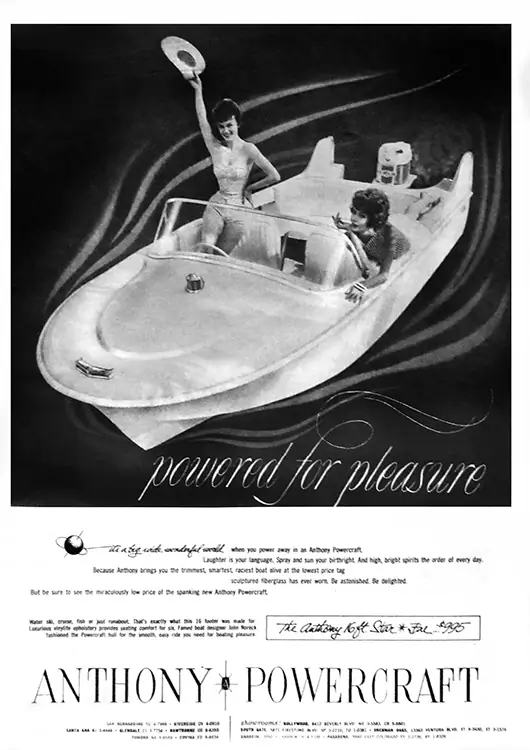 Why were so many different corporate names associated with this same address? Were these divisions of Anthony Pools who even manufactured 16-foot motor boats? Incidentally, in 1996 Anthony Pools merged with East Coast Sylvan Pools and became traded on Nasdaq. Anthony Sylvan is the largest pool manufacturer in the United States.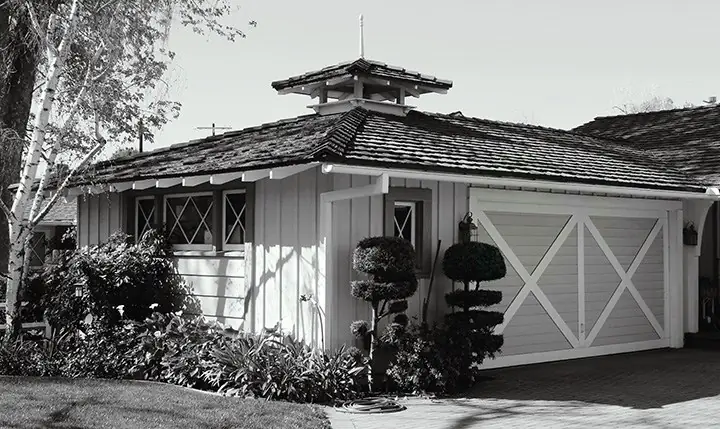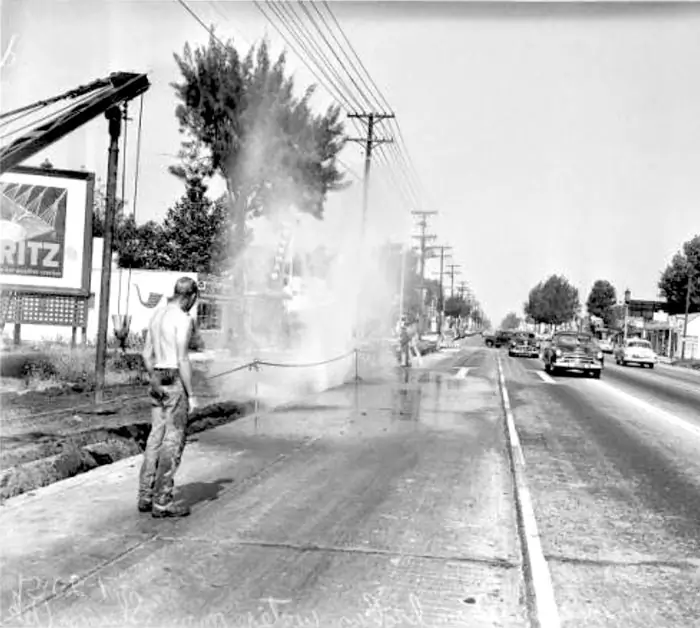 Moving to the west side of Dixie Canyon and Ventura, on the other side of Ventura Boulevard, enter the lots at 13400-13418 Ventura Boulevard. W.L. Mellenthin, builder of the San Fernando Valley birdhouse tracts, occupied 13402 Ventura Boulevard in 1947. 1961 plans show a 15 X 30 pool fronting Ventura on the lot of 13400 Ventura Boulevard. Rivera Pools was at this site since at least 1959. But so was Royal Pools.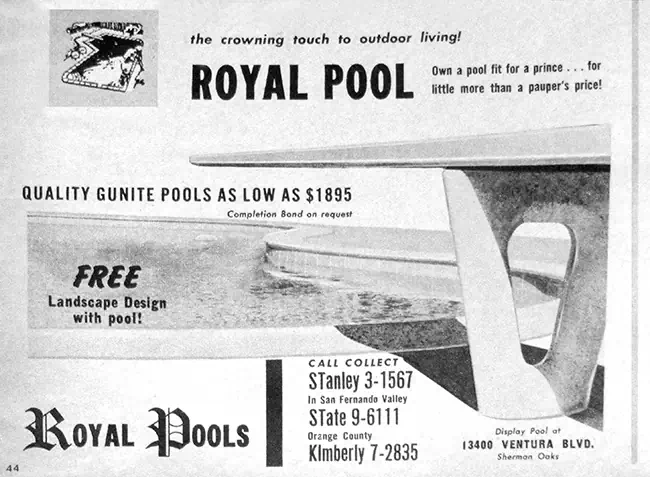 [ 13412 pool drawing 13418 pool drawing ]
1961 permit records show a 380 square foot building was permitted for 13418 Ventura Boulevard as a sales office for Riviera Pools, Inc. also associated with 6715 Reseda Boulevard. The purpose of the building was for a private display swimming pool. Was the pool ever built?
The permit expired in 1962.

Directly across from 13400-13418 Ventura, west of Dixie Canyon, is 13409-13413 Ventura Boulevard which was separated by the Anthony Pool enterprises merely by Dixie Canyon. Interestingly, William Flynn was the owner of 13413 Ventura Boulevard in 1945 when he erected a real estate office there. He also owned the land at 13363 Ventura Boulevard. By 1960 Paddock Pool Construction was onto connecting two buildings on 13409 and 13413 Ventura Boulevard. Four months later they had constructed an 18 by 34 pool with an approved enclosure noted as a (Display Pool Only). The 1961-1962 phonebook for the area shows Paddock pools at this location.

Paddock pools began in the 1920s when they built a public pool in Lancaster. Also, in the 1920s they started using white plaster. They mostly built public pools. Paddock and Ilsey merged in 1936. Ilsley was a landscape architect who in the late 1930s revolutionized the pool industry by building freeform oval shaped pools, and using boulders. In 1940 Ilsley built the first gunite pool. In 1940 Paddock sold his company to Ilsley. In the late 1940s Paddock invented fiberglass pools. In 1963 Paddock was bankrupt and sold its assets to an East Coast Company. Locals claim there were numerous pools between 13400-13412 Ventura during the 1950s.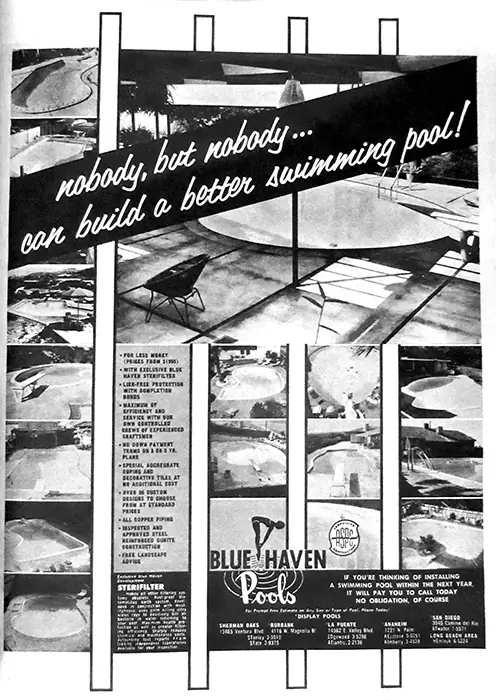 On hot days when the pool companies were not in business minors snuck over the fences (separate enclosures) and used the pools.

[ 13400 pool drawing 13400 pool drawing ]
By the early 1960s there was a minimum of one pool fronting Ventura Boulevard just east of Dixie Canyon on the Southwest corner of Ventura Boulevard in the Anthony Pool location. There was a pool between 13400 Ventura and 13410 Ventura, an additional pool company at 13418 Ventura, and another pool across the street at 13409-13413 which was presumably owned by a Paddock enterprise. Moving east onto the other side of Woodman there was a pool fronting 13721 Ventura Boulevard. By June of 1960 Blue Haven's 30 by 32 display pool was complete at 13865 Ventura Boulevard. In 1960 Lido Pools had a 15 by 30 pool located at 13925 Ventura Boulevard (the present site of McDonald's).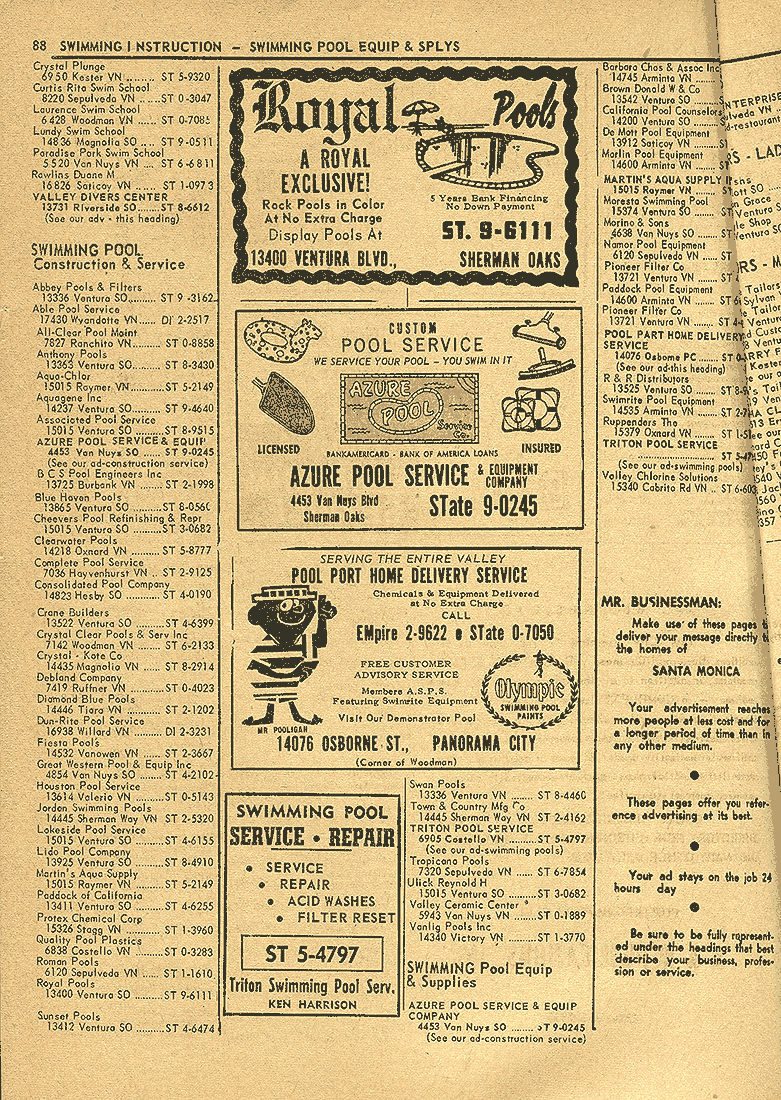 Why the display swimming pool business developed so quickly in such a small section of Ventura Boulevard can be attributed to several factors. This was a heavily traveled section of Ventura Boulevard before the 101 Freeway was built in this area. Ventura Boulevard between Fulton to Hazeltine was likely to be passed on trips to Beverly Glen, Coldwater Canyon, and even Laurel Canyon and Sepulveda Boulevard. This area was close to large tract developments in affluent areas to the South and North which may or may not have had swamp coolers, the more luxurious central air, or the Cadillac of it all air-conditioning. Small real estate offices and other small buildings still existed on lots in the area, and originally served as sales offices for the pool contractors. However, Anthony Pools and Paddock's mental capital cannot be underestimated in the development of this display pool district.

In 1970 Swan Pools received a certificate of occupancy for a 15 by 31 display pool at 13363 Ventura Boulevard. This site was where the first display pool appeared in the area, and then the last.

1978 permits were pulled to remove the pool at 13400-13410 Ventura Boulevard, but it is not clear that occurred until 1985 when construction of the granite office building at 13412 Ventura Boulevard began. Although Anthony Pools erected their last Sherman Oaks display pool in 1975 the same year permits were pulled to demolish the entire site. By the late 1970s the East and Mid-Valley were developed. Single story Ventura Boulevard was being knocked down. Former residences, swimming schools, roadside motels, and shacks on lots facing Ventura Boulevard were on their last legs.

The pool at 13409-13413 Ventura seemed to remain until after the Employment Lawyers Group moved to 13418 Ventura Boulevard, originally as Danz & Gerber in early 1999. An odd wooden privacy wall surrounded the property. Gerber recalls swimming lessons being offered at that pool in the 1970s, and believes the pool was hidden by the privacy walls and/or was an indoor pool by the time he watched the site being demolished from his office window around the turn of the century.

---